Most Helpful Answer
The best of Rome with kids
There are so many attractions to see in Rome and there are some kid-friendly ones that a family itinerary would not be complete without.
1. Luneur Park - for little kids below 8
2. Villa Borghese Park - for open spaces, and boating
3. Explora Museum Rome - for interactive learning
The Explora museum is specifically aimed at children. It is located in the Flaminio area. What makes it so popular and fun is that children can interact with the exhibitions in hands on learning. The exhibitions helps the children play and discover different areas of science and society. Part of the museum is the Explora garden which is free to enter. It encourages the children to interact with elements such as sand and water.
4. Rome Gladiator School - for active kids
A team of historical re-enactors known as Gruppo Storico Romano, or the Historic Roman Group, runs the gladiator school and attached museum. This attraction is a must have in your family itinerary.
5. Rainbow Magicland Rome - a typical amusement park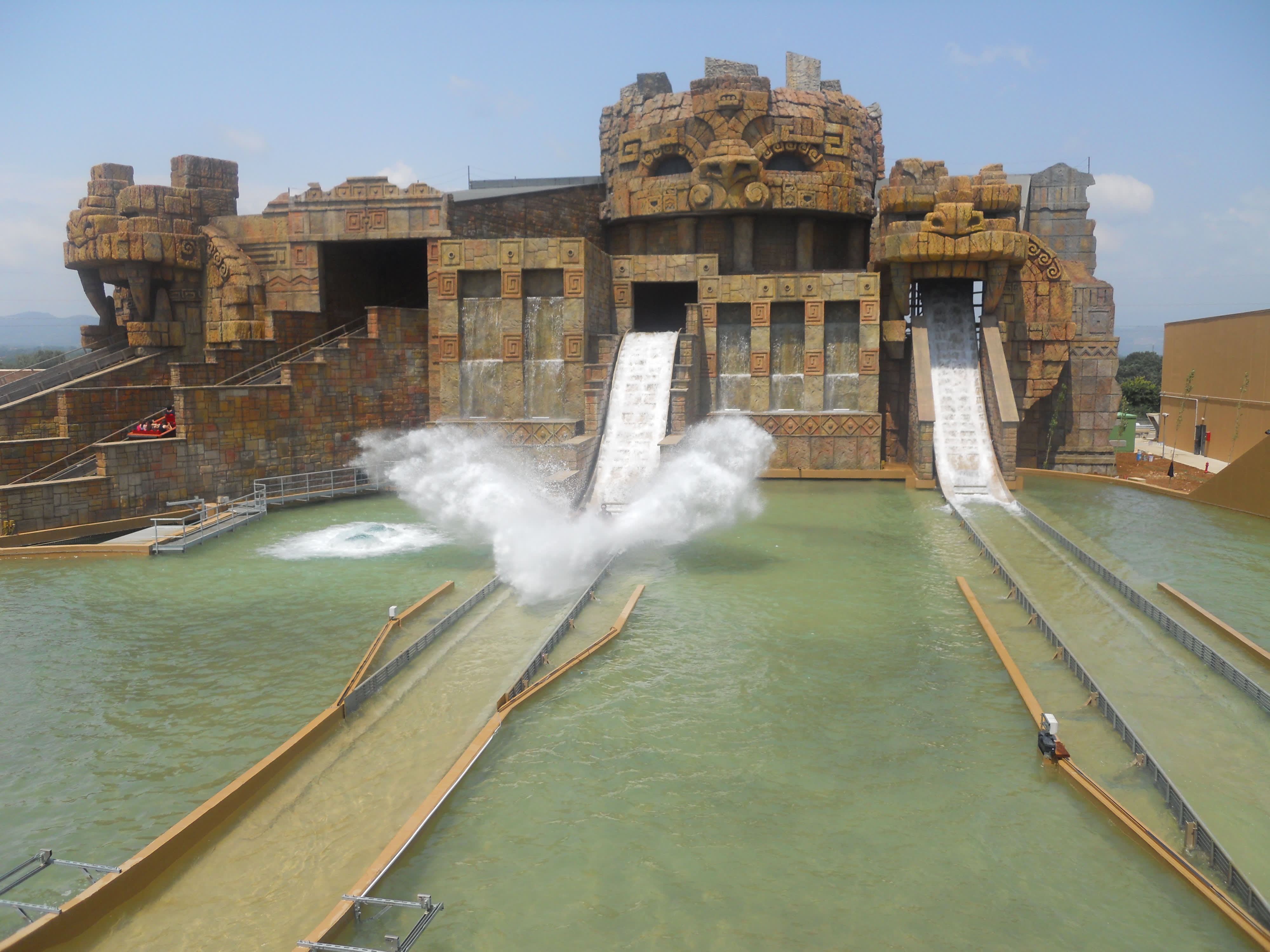 Wikimedia
The Rainbow Magicland is an amusement park that can be found an hour away from Rome but the park has a shuttle service that connects the amusement park to Termini station. There are so many rides and attractions, and I only recommend going there if you have enough time to spare.
6. Zoo Marine Park - a nice enough zoo
The water park is an hour away from Rome. Not only are there numerous water rides and attractions to keep your children occupied but one of the highlights of the park is the Emozione Delfini show where children can interact with Dolphins under the supervision of biologists and trainers.
7. San Clemente - kids' favourite church, near the Colosseum
8. St. Peters and Sistine Chapel - only the best parts of Vatican, with kids
In St. Peter's focus on the view from the cupola and be sure to take the elevator. And in the Vatican skip everything else and head straight for the Sistine Chapel. After that, if the kids are still fine, carry on with the rest of the Vatican. Do not visit the Vatican with kids on a Sunday, they will hate the crowds.
9. Hop On Hop Off Bus - a treat in Rome, for kids
Anticipate all the walking that you will have to endure in Rome, and start your visit with a HoHo bus tour to get the kids warmed up to the idea. This is a good way to get a feel for what the kids like, so you can dive into the places on foot later. To make sure you get a seat, board at Termini where the route starts.
10. The Pantheon - large, open, cool, and free!
11. Colosseum - with kids, head straight to the Lions!
Kids cannot understand what is so great about the ruins of the Colosseum. So take my advice and tell them about the gladiators and lions. Get them interested in seeing where the animals were caged in the hypogeum, and how the lions came up the elevators, to the arena to fight. Make sure to book the underground tour for this.
12. Catacombs - perfect for teenagers
If your kids are older, you should visit the catacombs with them. I haven't yet met a 13 year old who is not all excited at seeing the tunnels and tombs on the Appian Way. But use your judgement as a parent, because younger kids don't like this place much.
13. Bocca della Verità - yet another activity that kids love!
Kids find the Roman Forum boring until they see this mask in a wall at the ancient cattle market. The legend is that if you lie, your hand will be stuck in the mouth of the mask that is supposed to depict Oceanus. Adults will also like this visit, made famous by Gregory Peck and Audrey Hepburn in the film Roman Holiday.
Recommended answer 2 of 3
Rome is a mixed bag for kids
Rome is a fantastic place to visit but since the attractions and sights are based mainly on art, religion and archaeology it is a challenge to keep children engaged. Here are some tips to keep in mind when visiting Rome with kids:
Some tips for visiting Rome with kids
1. Brush up on ancient Rome
History is such a vital part of Rome and the best thing you can do is to brush up your child's Roman history before you arrive in the city. If your child knows a bit about the exciting background of this city, it can motivate them to engage and appreciate the sights that they will see.
2. Don't rush your trip
Another rule I live by, is to never visit Rome for less than 3 days. This rule applies even more so if you are visiting Rome with kids. I say this because there is just so much to see, and trying to fit as much as you can in those three days or even less will only add to the stress of the child and take away from the enjoyment of the trip.
3. Mix it up
You are probably planning on visiting places like the Colosseum (which should not be missed), but make sure you plan a variety of visits using the list above so that the whole trip is not based on walking around ancient ruins and fighting through crowds
4. Give them a break
Rome can be an incredibly tiring place to visit, so make sure you have a backup plan for when the kids need a break. Map out you itinerary in a way that breaks up busy tourist visits with trips to the many parks, piazzas and gelaterias in the city.
5. Visit Vatican early
Visiting the Vatican museum and Sistine Chapel is a must but it's hot inside and quite crowded which can be an exertion on children. I think the best option is to buy the breakfast and early entry ticket. This ticket lets you visit the Vatican museums before the gates are open to the public. This is way easier as you can beat the heat and the crowds. The entry is early at 7AM but let me tell you it is way worth it. Having to wake up your child early trumps managing a cranky child in a hot and crowded museum.
6. Buy the kids' audio guide
At the Vatican museum, the kids audio guide is brilliant and engaging. The guide is done very well and is set up as a treasure hunt for masterpieces which keeps your child entertained. The best part, it's only €5.
7. Visit Vatican over 2 days
I recommend visiting St Peter's Basilica on one day and the Vatican museums on another. I can tell you that even for an adult it is way too tiring and overwhelming to try and fit them all in one day. Spacing out Vatican attractions on different days can be a lifesaver.
8. Climb St. Peter's dome
If you're visiting St. Peter's Basilica, one of my favourite parts and what I always recommend is climbing to the top of the dome. Don't worry though, there is an elevator so you don't have to miss out even if your your kids are tired. Just a heads up, tickets for visiting the dome can't be bought in advance, they only be bought onsite.
9. Buy Colosseum tickets in advance
If you're visiting the Colosseum, I recommend buying your ticket online in advance to beat the stress. If you are planning to buy tickets at the Colosseum, the queues can be long and standing in line can be tedious for kids. If you have to buy tickets onsite, the queues are actually shorter at the entrance for the Forum, and Palatine Hill, than at the Colosseum gate.
10. Beware of Gladiators
The Colosseum is amazing but I you need to be warned. There are people dressed up as gladiators which can seem really cool. The problem is they will insist on taking a photo with your child and then afterwards charge you €20. Just be wary of this.
11. Children enter for free
A major stress reliever is the fact children can enter all museums and important monuments for free. You can definitely use this to your advantage.
12. Stay at apartments
It is better to stay in apartments rather than a conventional hotel if you're travelling with children. There are plenty to choose from in Rome. If you prefer a serviced apartment, you can find them listed on traditional hotel booking sites but if you're looking for an apartment without services, you can find them here. You may also look at hotels with quad rooms.
13. Don't avoid eating out
It might be tempting to avoid eating at restaurants altogether, but this will be a memorable experience for kids. If you are worried about how fancy they might be, you could try going to more casual trattoria. No matter where you eat, children are a big part of Italian life and are welcome in almost all dining situations, and is is normal to ask for smaller portion sizes or plain pasta. If you truly want to avoid the hassle altogether you will many (well-air conditioned) McDonald's restaurants all around the city.
Recommended answer 3 of 3
Guido Reni District
Guido Reni District is like a little district with a lot of different areas. At Guido Reni District you can find exhibitions, events and food. If you have a child, there is a little garden with particular children's play and you will find events especially for children.
Furthermore, in front of Guido Reni District there is MAXXI museum, a beautiful museum of modern art. It's beautiful not only for the exhibitions inside, but even for his structure: it's an awesome adventure. They also organize something for children sometime.